Residential Garage Door Repair in Boulder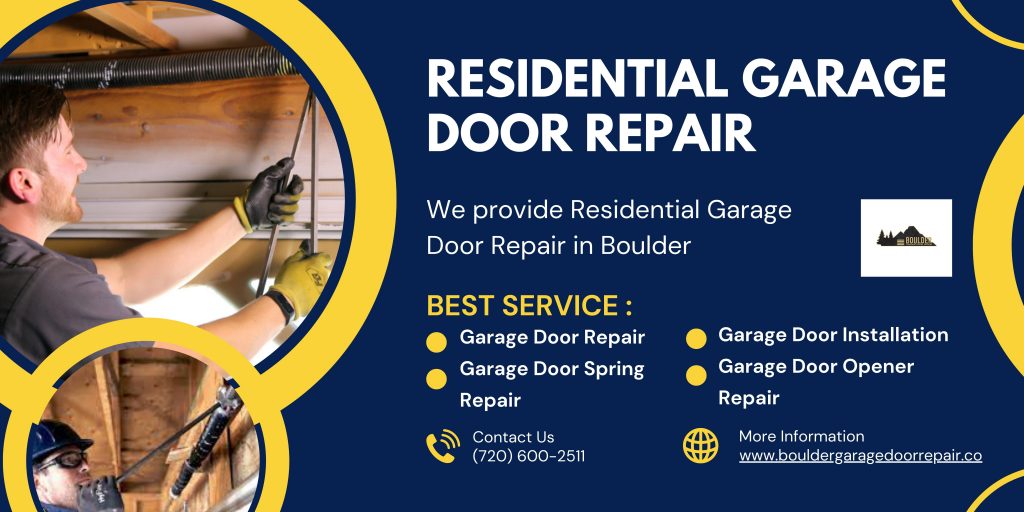 Your garage door is a vital part of your home, ensuring safety, security, and convenience. However, when issues arise and repairs are needed, it's crucial to turn to qualified professionals. In Boulder, Colorado, hiring licensed technicians for residential garage door repair is crucial due to security concerns. In this blog post, we'll explore why licensing matters and the benefits of working with licensed technicians. We will also discuss how it ensures the quality of your Boulder garage door repair.
Benefits of Hiring Licensed Technicians:
Here are some benefits of hiring a licensed technician for your garage door repair Boulder, Colorado.

1. Compliance with Regulations
Licensed technicians are required to comply with all applicable regulations. They can help to ensure that your garage door is repaired safely and properly.

2. Safety
Licensed technicians have the knowledge and skills to repair your garage door safely. They will also be familiar with the safety procedures that need to be followed, such as using lockout tags and eye protection.

3. Accountability
Licensed technicians are held accountable for their work. If something goes wrong with the repair, you have recourse through the licensing board.

4. Expertise
Licensed technicians have the expertise to diagnose and repair even the most complex garage door problems.

5. Quality Workmanship
Licensed technicians are committed to providing quality workmanship. They will use the proper tools and materials to ensure that your garage door is repaired to the highest standards.

6. Proper Tools and Equipment
Licensed technicians have the proper tools and equipment to do the job right. They will not cut corners or use subpar materials.

7. Warranty Protection
Licensed technicians typically offer a warranty on their work. This means that if the repair fails within a certain period of time, the technician will fix it for free.

8. Timely Completion
Licensed technicians are committed to completing the repair in a timely manner. They understand that your garage door is an important part of your home, and they will work to get you back up and running as quickly as possible.
How to Verify Licensing?
There are a few ways to verify that a garage door technician is licensed. You can check online databases, ask for proof of licensing, or read reviews.

1. Check Online Databases
There are a number of online databases that list licensed garage door technicians. You can search by city or state to find a technician in your area.

2. Ask for Proof
When you contact a garage door technician, ask to see proof of their licensing. This could be a copy of their license or a certificate of completion from a training course.

3. Read Reviews
You can also read reviews of garage door technicians online. This can give you an idea of the quality of their work and the level of customer service they provide.
Conclusion
When it comes to Boulder garage door repair, choosing a licensed technician is essential. Licensing ensures compliance with regulations, safety, and accountability. It also provides many benefits, including expertise, proper tools, and warranty protection. Hiring a licensed technician ensures professional and reliable garage door repairs. It helps in ensuring the continued safety and functionality of your home's garage door.