Garage Door Opener Repair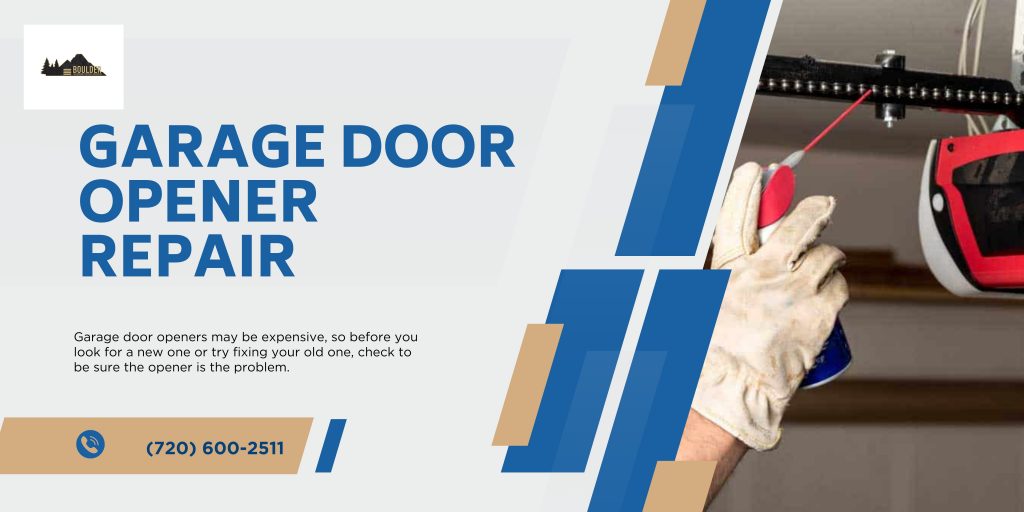 Your home's aesthetic value is proportional to the garage doors' design. Most of us pay less attention to garage door openers than doors until an issue develops.
Please read on for a detailed explanation of how to repair garage door opener.
Determine What's Causing the Issue First
Garage door openers may be expensive, so before you look for a new one or try fixing your old one, check to be sure the opener is the problem.
It's also possible that something besides the opener is preventing your garage door from opening.
Lucky for us, we can easily verify this. The manual way to open a garage door is to start with the door closed and pull the emergency wire. If this cord opens and closes the door, the mechanism works. If the garage door won't open, check the springs or tracks.
You should hire a professional if your garage door springs are old or broken. Working with large springs poses serious risks if you lack experience. Doing a garage door opener repair is something best left to experts.
How to Repair a Faulty Garage Door Opener
Various typical issues could be to blame when your garage doors and opener malfunction.
The Power Source Is Out
If your garage door opener isn't working, try giving the remote a fresh set of batteries.
A dead battery will prevent you from using your garage door opener. If you suspect a malfunctioning remote, try opening the garage from inside by pressing the button.
Of course, if you have a high-tech Liftmaster garage door opener, your opener could be linked to your mobile device. This allows you to determine whether your remote control requires a new battery.
Your Electrical Supply Has Been Interrupted
The motor for your garage door is wired straight into your home's electrical system. In the event of a power outage, the opener will be inoperable. If neither your remote nor the buttons on your garage's inside wall work to open the doors, something has likely damaged the power supply, barring a power outage.
First, examine if a circuit breaker has been tripped. Then, double-check that the plug is securely in the wall outlet.
There's been a motor failure
If the problem is not with the electricity, then the motor in your garage door opener is probably dead. There's no simple garage door opener repair like switching batteries or turning a switch. The motor needs repair or replacement.
A burned-out motor is usually an indication of aging equipment. Instead of keeping an old opener running with costly repairs, consider replacing both the opener and the garage doors.
Problems with the Remote
The remote control for your garage door could break after prolonged use. If the housing breaks or the button becomes stuck, it won't work.
Your garage door opener remote may need to be replaced if it is old and broken. The garage door opener's manufacturer should be able to supply you with a remote. A universal garage door opener can be purchased online for a lower price.
Call Boulder Garage Door Repair CO Today for Emergency Repairs and Guaranteed Same-Day Service!
Working with Boulder Garage Door Repair CO means you'll have access to high-quality products and parts from trusted brands and hassle-free service provided by garage door specialists. If our specialists uncover a problem with the opener, drums, and wires, you can rest easy knowing that we can handle it quickly and effectively.
Guaranteed same-day service for garage door opener repair
Convenient two-hour service window
All garage door opener repairs and replacements are completed in this time frame
Parts and labor prices are quoted in advance;
Vehicles are kept fully stocked for on-the-spot repairs;
Parts are guaranteed to last a minimum of a year;
Opener motors are guaranteed for life.
Avail Yourself of Our 100% Free Estimate Now!
Call Boulder Garage Door Repair CO today to schedule expert garage door opener repair instead of making costly DIY adjustments. Now is the time to take advantage of our simple online form and register for your no-obligation pricing estimate.