Incredible Tips to Handle a Broken Garage Door Spring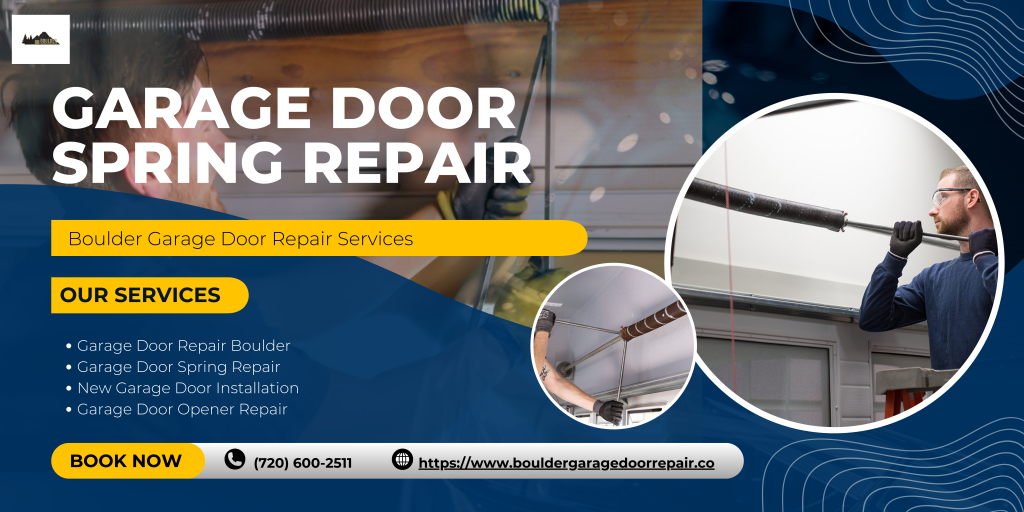 Garage doors are the most important and valuable parts of any building, whether commercial or residential. However, it can also experience damage when it is used for a long time without maintenance. It has been seen that most people usually use their garage door as the main entry & exit point of their home. As a result, your garage door opens and closes numerous times daily, giving rise to several errors; loose or broken garage door springs are one of them. This issue arises when all your garage door springs lose support and fail to react promptly. That issue needs to be resolved for efficient functioning. This blog indicates several useful tips for fixing your broken garage door springs. 
All about Garage Door Springs
The term garage door spring refers to a valuable component that holds the overall weight of your garage door and allows it to function properly. As it is the most widely used asset of your home or office, your garage door spring handle weighs 300 lbs to make your garage door lighter.
Warning signs indicate broken garage door springs. 
Garage doors are comprised of several mechanical components; when one component falls, the entire process breaks down and hinders the performance of your garage door. Thus, it gives rise to several consequences and warning signs that indicate you need to replace or repair your garage door spring. Here are some warning flags for broken garage door springs: 

1. The garage door closes too fast
2. Loud, horrible noise from the garage door 
3. Springs have gaps.
4. The garage door jerks when opening and closing 
5. The garage door is bent
6. Springs look rusty
If your garage door experiences such warning indicators at that moment, consult a recognized garage door repair and maintenance company like Boulder Garage Door CO. They have the expertise to tackle errors with perfection. 
Tips to fix broken garage door springs
Following several essential garage door spring maintenance tips is necessary to repair broken garage door springs. If you have a DIY kit, remember to keep all the safety measures in mind.  
Tools and Equipment Required
You never win a battle if you don't have the right sword with you. It's just the same in the case of garage door repair. Here is a list of tools that you need during garage door spring replacement: 
What materials are required? 
Step-by-step process to fix broken garage door spring 
Follow the below-mentioned steps for fixing the broken garage door spring:
Step 1. Clamp the door to the track 
Clamp a C-clamp to the track right over one of the rollers. Doing this will protect the door from shooting up and damaging your nose when you assemble the new springs during an overhead garage door repair. Also, when you begin any garage door spring repair, rip the cord and unplug the door opener.
Step 2. Loose your unwind door spring
Place a winding bar into the bottom hole of the excellent spring's winding cone. While you loosen the two setscrews, keep the bar in place. Hold tight; the spring will press with great force when the screws come loose.
Step 3. Include two winding wires 
Insert the second winding bar directly into the hole, remove the bottom bar, and unwind the spring at a quarter turn at a time. I am also leaping the winding bars with each turn.
Step 4. Remove all nuts and bolts
Remove the two nuts and bolts that fasten the stationary spring cones to the major bracket in the next move. Then, slide the springs toward the end brackets.
Step 5. Safe the torsion tube 
To keep the torsion tube in place, secure it using locking pliers or a C-clamp to the central bracket. Then, lift cable drums on the left and right, unscrew the setscrews, and detach the lift cables.
Step 6. Put torsion tube over broken spring
Slide the torsion tube to the legitimate starting on the left side of the door to remove the cable drum. Then, remove the old spring from the tube.
Step 7. Calculate the wire diameter
Place a tape measure between two spring coils, noting the length of 20 coils. Then, count 40 coils. Convert the measures to decimal (4-1/2 in. to 4.5 in., for example, or 4-1/8 to 4.125). Divide the two measurements by 20 and 40 to get the wire diameter of the spring. Here's an illustration: 4.50 times 20 equals.225-inch wire diameter; 9.0 times 40 equals—225-inch wire diameter. You've measured correctly if the two results match.
Conclusion
Resolving a broken garage door spring can't be easy without taking professional help. This blog will highlight the complete procedure of resolving a broken garage door spring from start to end and the tools required for a hassle-free fix. If you want satisfactory garage door repair and maintenance solutions, you should get help from a professional company like Boulder Garage Door Colorado. They have the best team of experts who resolve your issues quickly and efficiently.
Frequently Asked Questions Related to "Broken Garage Door Spring":-

1. How do I know if I have a broken garage door spring?
These signs may be a sign of a broken garage door spring. If your garage door is heavy, uneven or makes loud noises when you open and close it. You may also see a hole in the spring or loose or detached cable.
2. What does a broken garage door spring look like?
A damaged garage door spring may appear stretched, bent, or split in half. You may also notice a gap or a lack of tightness in the spring.
3. How common is it for a garage spring to break?
The lifespan of garage door springs is limited to 10,000 cycles. This means that garage door springs can break after a few years of use. However, the frequency of breakage is dependent on a variety of factors such as usage, maintenance and the quality of your garage door springs.
4. How to fix a broken garage door spring?
How to Fix a Broken Garage Door Spring? Garage door spring repairs are a labor-intensive process that requires tension to be released, the old spring to be removed, and the new spring to be installed safely. It's essential to hire a professional garage door spring repair technician who can evaluate the correct size and type of spring for your door to ensure proper installation and function. Attempting to fix a garage door spring yourself can be hazardous and can lead to further damage or even injury.
Get The Highlights Of Our Top-Notch Garage Door Services
Broken garage door spring cost
Garage door spring broken how to open
Broken garage door spring repair near me
Garage door spring broken on one side
Garage door spring replacement parts
Home depot garage door springs